Healthcare Provider IT Support

Healthcare practices need to watch over their patients, not IT. But without constant monitoring and maintenance to ensure security, compliance, and productivity, delivering timely diagnosis and treatment to patients can be a challenge.
Bytecafe Consulting offers a plethora of cutting-edge IT services like cloud computing and mobility solutions so you'll be able to access your confidential files on demand. As a result, you'll be able to diagnose your patients more effectively and provide superior healthcare service. We'll also implement security solutions like multi-factor authentication, advanced firewall, industrial-grade encryption, and strong anti-malware software to your IT infrastructure and handheld devices to ensure your data is safe from cyberattacks and your practice stays HIPAA compliant.
Our experts also proactively manage your software, hardware, and network to keep your systems healthy so you can focus on caring for your patients.
The Bytecafe Team gets 5 Stars from Texas Alcohol and Drug Testing Service.
Bytecafe believes in forward thinking to always look to new technology to make TADTS more advanced and efficient. Bytecafe owner Mike Clemmons was instrumental in convincing TADTS to move over to VoIP – Star2Star. The technology proved beneficial with Hurricane Harvey. Three TADTS offices were ...Read More
Joe Gomez
VP of Business Development
Texas Alcohol and Drug Testing Service
Wonder How Much to Budget for IT Support & Services?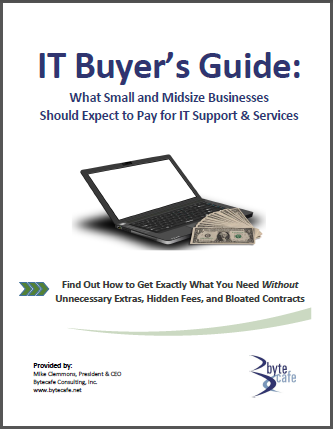 Download Our Free IT Buyer's Guide Today!