Dental Practice IT Support
Maximize your yield per patient

The more efficient your dental office is, the more patients you can see on a daily basis. With specialized IT solutions for the dental industry from Bytecafe Consulting, you can increase your practice productivity and profitability, while providing the personal care your patients deserve.
From single to multi-office setups, we provide complete IT solutions including software and hardware support for dental clinics like yours. Using leading practice management software from Dentrix and Carestream, we can bring greater efficiency to your growing practice, with seamless integration between dental digital imaging and practice management software.
With Dental IT solutions from Bytecafe Consulting, running your practice has never been simpler. Integrate your systems today for a brighter tomorrow!
Together with software from Dentrix and Carestream, our Dental IT solutions give you the power to simplify:
Scheduling – maximize productivity and attach lab cases, treatment planning, and periodontal cleanings to patient data
Accounting – manage your AR, collections and payment plans with one simple solution
3D Charting – advanced modeling software lets you customize chart views by quadrant and outline treatment plans
3D Perio Charting – enjoy voice software for perio charting
Patient Tracking – make note of patient allergies and notify them of bills due, appointments and more
Insurance Claim Tracking – print forms and take advantage of electronic claims
Imaging – digitize radiographs and view patient images from your computer
Payment/Fee Schedules – for simplified financial management
Wonder How Much to Budget for IT Support & Services?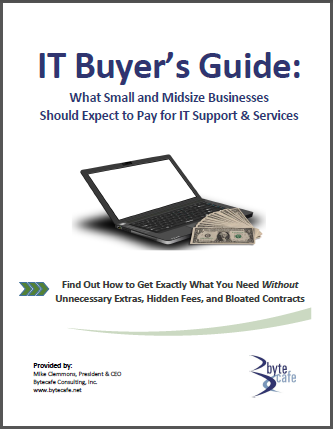 Download Our Free IT Buyer's Guide Today!