Cybersecurity: Update Your Computer's Operating System Regularly
Of all the cybersecurity things you can do, this is probably the easiest and the one that will keep the vast majority of the attacks away from you. (But please, do not rely on this to be the only thing you do.) What am I talking about? Keeping your computer's operating system updated with the latest patches and ALSO keeping the software you use patched as well. This includes Windows computers AND Mac computers. Yes, Macs can get exploited too.
Patches for your operating system and software exist to stop the vast majority of common malware. When patches get released, they generally let everyone know what the update is protecting them from. The bad guys also get this list and use it because they know that most people do not keep their software patched. This makes their work much easier.
For our clients, we monitor their computers to make sure they are patched and updated regularly. But, believe it or not, when we bring on new clients, we often find that their Windows updates have either been disabled or are not working properly. If one computer has been compromised, it makes it easier for them to infect other computers on the network. This is why all the computers on the network must be monitored together instead of just looking at individual computers.
This goes for programs like Word and Excel where macros can be run to inflict serious damage on a network (i.e. initiating a ransomware attack). You need to make sure that you are using a supported version of Microsoft Office and that it is updated regularly with patches. The same can be said for software like Adobe, Google Chrome, Firefox, etc. Keep all software updated.
The Sony Pictures hack back in 2014 clearly shows the severity of these types of attacks on companies. Highly sensitive information, including private employee information, their salaries, and unreleased movies were all stolen and then released on to the internet. After they were done, a sophisticated malware then erased their computer infrastructure.
Please remember, this is just one of the twelve things you need to be looking at in order to protect your organization. Check out the rest of the list at www.bytecafe.net/services-solutions/security-solutions.
FREE RESOURCE:
7 Critical Security Protections Your Business Can't Afford to Skip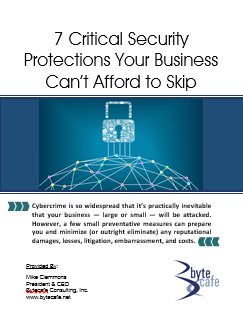 Important! We hate spam as much (or more!) than you and promise to NEVER rent, share, or abuse your e-mail address and contact information in any way.
Our system is now much more efficient and secure.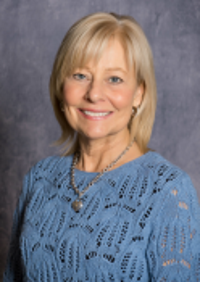 Bytecafe took the time to learn about our business before recommending and implementing solutions — our system is now much more efficient and secure. When we do need technical support and advice, they deliver quickly and with excellent customer service.
Lisa Wirthwein
Marketing & Operations Director
OneZone
Knowing that Bytecafe is our partner looking after our security and system needs gives us confidence to focus on our business.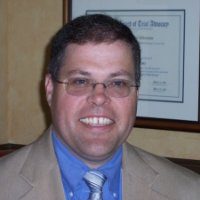 Data is the life blood of our business. Any breach of our security, any threat to the integrity of our data, or any anomalies in our systems poses danger to our mission-critical operations. Knowing that Bytecafe is our partner looking after our security and system needs gives us confidence to focus ...Read More
John P. Young
Partner
Young & Young