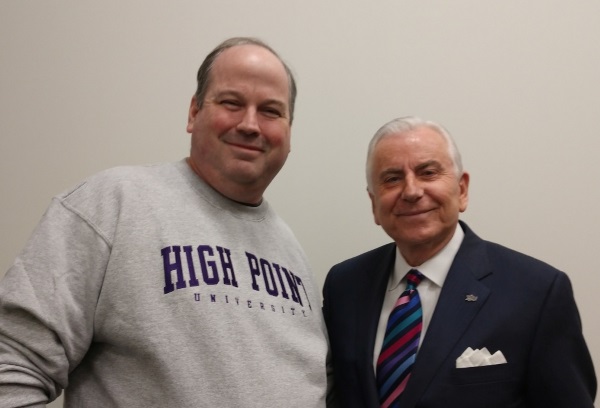 Last month, I was at a conference where Nido Qubein was speaking. I have seen him speak in the past (going back to 2011) and have absolutely loved his presentations. It is not just what he has to say, but what he has actually accomplished (especially at High Point University) that make them so great. As you can see by the picture, I am a pretty big fan of his. The night before he was to speak, I sent him an email asking if it was possible to have a few minutes of his time. Half an hour later, I received an email back from him saying "Yes sir. Seek me out." I love how accessible he is, not only to me, but all the students at High Point.
When he started as President at High Point back in the early 2000's, it was a run-down college. Over the past 15 years or so, he has transformed it into one of the leading Universities in the south, if not the country. He spoke about what he, as a leader, had to do to change the course that they were on. He distilled it down to four things:
Render Value – He had to visually show people how things could be different.
Interpret Value – This demands a different skill: the skill of communication. This skill involves connecting with people on their needs, their aspirations, their goals, and their fears.
Remove all the Irritants – Take a moment and write down three things that you think your customers might find irritating when doing business with you. Now, what can you do to eliminate them?
Create Wow – Find ways to do things for your clients that make them say "WOW". There are a number of companies that do this really well. For example, Disney World and Zappos.
One of my big takeaways from talking with Nido is about finding all the irritants and eliminating them. This is not as easy as you might think, but it needs to be done. It is going to take a lot of conversations with clients to make sure we identify those irritants and find effective ways of eliminating them. I am really looking forward to it!
Questions? Send us a message at www.bytecafe.net/contact-us or give us a call at 317-372-7625.