March 27th, 2015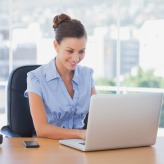 Earlier in March, Apple unveiled its brand-new notebook to be added to the MacBook product line. This notebook was initially known as the Retina MacBook Air, but Apple has now decided to name it the New MacBook, in the hope of expanding its line of products. The New MacBook offers a range of features with increased performance and usability compared to its predecessors. Here's an overview of what to expect from the New MacBook.
Design
You'll be amazed how compact the New MacBook is. It is currently the thinnest notebook Apple has to offer, measuring only 13.1 millimeters in thickness. It is also very light, weighing only two pounds, or less than a kilogram. MacBook series usually come in silver, but the New MacBook is available in Space Gray and Gold hues, similar to the iPhone and iPad.
Display
The New MacBook sports a high-definition Retina display, with a resolution of 2304x1440 pixels. The 12-inch display screen is wide and roomy enough to engage with web browsing, applications and programs efficiently.
Keyboard and Trackpad
Apple has always incorporated some of the best keyboard and trackpad technologies in its MacBook machines. A big keyboard change sees the traditional scissor mechanism replaced with a butterfly mechanism, offering users a better typing experience. The butterfly mechanism is wider and is made from a stiffer material, meaning that it's more stable, responsive, and takes up less vertical space.
Read more.