March 13th, 2012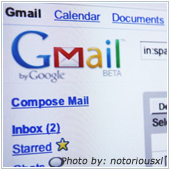 Any kind of business in nearly all industries needs email. It's an efficient and fast way to communicate (and document that communication) with people both inside and outside the organization. And for many, Gmail has been one of the most versatile email clients out there.
You have to give it to the guys at Google to always think of something new — some innovative way to better integrate their apps.
Before, sending an email through Gmail was a bit long-winded. You had to copy the email address, open Gmail manually, and then paste it onto the 'To:" bar. Now, this is a lot easier. With the new upgrade to Gmail that allows it to be used in tandem with most Internet browsers, it's much easier to make Gmail your default email client.
For Google Chrome Open Chrome, log into your Gmail account, and click on 'Yes' when asked if you want Gmail to become your default email client. Now, whenever you click on an email link when using Chrome, it will automatically open the "Compose" page of your Gmail account.
For Firefox Open Firefox, go to the 'Tools' menu (or click on the Firefox button) and select 'Options'. Under 'Applications', and then select 'mailto' under 'Content Type'. Next, under 'Actions', select Gmail as the default email client.
For Internet Explorer If you are a user of Internet Explorer, you'll have to download the Gmail Notifier, a toolbar from Google. Install the toolbar and have it select Gmail as your default email client.

Published with permission from TechAdvisory.org.
Source.